September 15-17, 2017
Progression Mechanics is a two-day conference for the Chicago area video game community, focused on the changing medium and business of gaming.
The video game industry, perennially buffeted by technical and creative reinvention, is changing in hyperspeed. The machines on which we play games, the markets in which we buy them, and the ways and occasions in which we play games, have changed drastically in the last decade. The people who create and play games have changed as well — battling substantial headwinds, gaming is more diverse than ever.
We welcome everyone interested in games — developers and publishers, academics and media, hobbyists and students — for a weekend seminar of presentations and conversations about where games are coming from, and where they are going. The event is hosted by Northwestern University's McCormick School of Engineering.
Featured Speakers
Panel Speakers
Moderators
10:00

Opening Statements

10:30

Featured speaker: Rami Ismail (Vlambeer)

Rami Ismail is one half of Dutch independent studio Vlambeer. He's best known for his work on games as Nuclear Throne, Ridiculous Fishing, LUFTRAUSERS and Super Crate Box. Besides games, Rami creates independent game creation tools such as presskit() and distribute(). Rami continuously travels the world, and has dedicated a large part of his efforts towards encouraging and supporting game development in emergent territories.

11:30

Panel: Experimental Games/Experimental Design

Anna Anthropy, Rob Lach, Ian Horswill, moderated by Chaz Evans


In this panel we will address new proposals for the aesthetics of and mechanics making video games. What stylistic territory is still uncharted? What kinds of game play are currently in development but still unresolved? What standards and conventions of video games might need to be broken?

12:30

Lunch

14:00

Featured speaker: Emily Short (Spirit AI)

Emily Short works in interactive fiction, narrative design, and conversation modeling, and is currently the Character Engine Product Manager at Spirit AI. She has worked with Telltale Games, ArenaNet, ngmoco :), and Failbetter Games among others, and was the creative director of the Versu project, building interactive iPad stories around AI characters. She has written over two dozen works of interactive fiction and is part of the design team for Inform 7, a tool for creating parser-based IF. Her blog can be found at http://emshort.blog.

15:00

Panel: The Changing Business of Game Development

Julia Keren-Detar, Phil Tibitoski, Ryan Wiemeyer, moderated by Robert Zubek


In the past decade we have witnessed a Cambrian Explosion of independent games, created by small developers pushing beyond established boundaries and delighting players with fresh and innovative games. However, as the variety and quantity of games grows, it drastically alters the business side of game development, and the difficulty of pursuing game development as a self-sustaining business. In this panel we will examine the situation from the perspective of independent developers navigating this new, uncharted territory, look at how the business has been changing for small and independent studios, and discuss some possible trajectories going forward.

16:00

Break

16:30

Panel: Research and Industry Collaboration

Chaz Evans, Ian Horswill, Ashlyn Sparrow, moderated by Robert Zubek

In this panel, we will discuss recent directions in academic research in games, from the three different perspectives of our panelists. We will also explore ways in which researchers and game developers can find ways to work together and what modes of collaboration might be the most beneficial.
10:30

Featured Speaker: Tarn Adams (Bay 12 Games / Dwarf Fortress)

Tarn Adams is the co-founder of Bay 12 Games. His main project is Dwarf Fortress, a fantasy simulation game which he works on with his brother Zach. The game is distributed free of charge and has developed a strong niche following, but it is also known for its difficult interface and text-based graphics. The brothers work on game design together, while Tarn does most of the programming.

11:30

Panel: Frontiers of Game AI

Tarn Adams, Emily Short, Robert Zubek, moderated by Ian Horswill


As narrative, procedural content generation, and deep character simulation become increasingly important to games, artificial intelligence is acquiring a key role in game design. This panel brings together innovators in the field to provide snapshots of work at the boundaries of the field.

12:30

Lunch

14:00

Featured speaker: Laine Nooney (New York University)

Laine Nooney is a professional researcher of computers and video games. She brings historical, theoretical and feminist methods to the study of media objects and practices, with a special focus on everyday users and obsolete technology. She is an Assistant Professor of Media and Information Industries in the Department of Media, Culture, and Communication at New York University.

15:00

Panel: Issues in Video Game Culture - Ongoing, Current, Upcoming

Jesse Meschuk, Laine Nooney, Brice Puls, Jamie Sanchez, moderated by Chaz Evans


We examine a wide scope of issues that affect the lives of those who participate in video games such as mental health, representation, balancing the demands of working in video games with the rest of your life, as well as taking a historical approach to understand the term "gamer".

16:00

Break

16:30

Panel: Esports

Jason Chayes, Jason Greenglass, Kyle Lueptow, Noah Whinston, moderated by Lester Greenman


Esports, a microcosm of the video game business itself, is experiencing explosive growth: in multi-genres of games on multi-channels of media, with new teams and leagues financed by mega players in the sports industry. Panelists will focus on both design and business aspects of the esports universe, including observations of emerging trends and predictions of where esports is heading in the next five years.

17:30

Closing Statements
Optional

"The Noncharted Territory" Game Jam @ The Garage

New ideas in any discipline are described as breaking into uncharted territory; moving into new worlds, mapping them, mastering them, and then moving onto the next. In the same vein, many games offer the chance to explore and master the world around you.

How does one explore new territory in emerging media while allowing it to be unknown and unresolved? What about games where you are supposed to get lost? How long can you dwell in unfamiliar spaces without orientation? What can you learn from swimming through a mystery before the part where its solved? This game jam challenges you to make a game (using any tool you choose) about moving through non-charted territory and discovering what happens when you leave the map-making tools behind.

Participants can work in groups or as individuals. Reach out to a Progression Mechanics conference associate if you need help getting teamed up with a group!

You can set up an Itch.io account and join the jam page here:
https://itch.io/jam/progression-mechanics-2017

SATURDAY
17:30

Game Jam Soft Launch

Jam participants who want to get a jump on their project and work ahead can start after the conference sessions are over on Saturday. (The Garage will be closed overnight.)

SUNDAY
10:00

Full Launch!

All participants meet at 10am in the Garage for the official and full start of the game jam.

10:10

Twine Demonstration

Never made a game before? No problem! We will run a quick demonstration on the free, open source, and popular game authoring tool twine. Get up and running with your first twine game in 15 minutes!

TBD

Lunch Break

18:00

Work Time is Over

Upload your build to the Progression Mechanics Itch.io page:
https://itch.io/jam/progression-mechanics-2017

18:15

Exhibition!

Time to show the world what you have made. Each team or individual will take the stage and describe/demonstrate their game in a 2-5 minute lightning talk.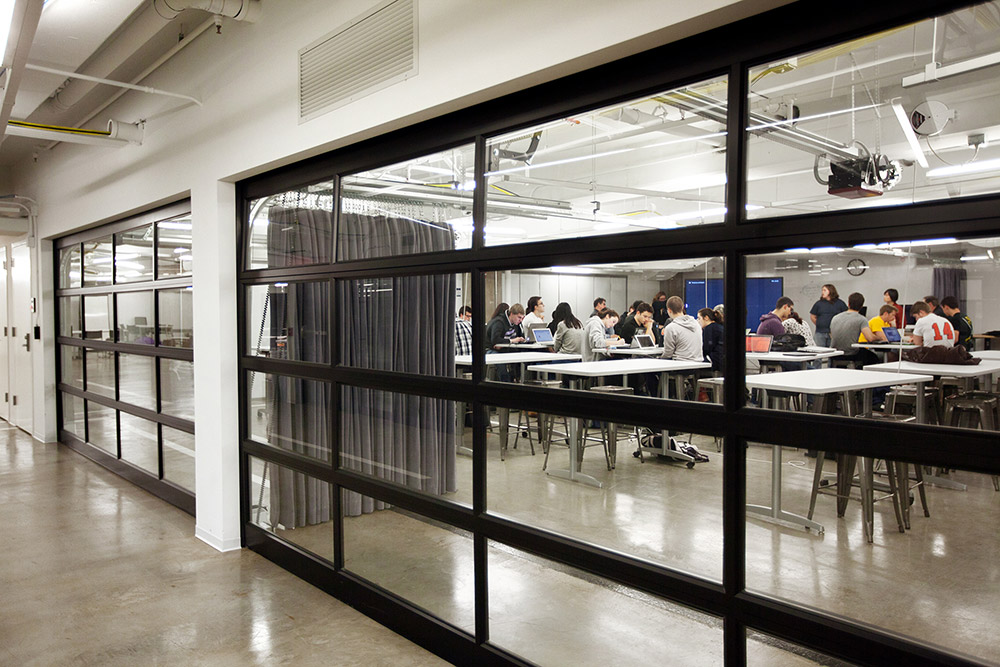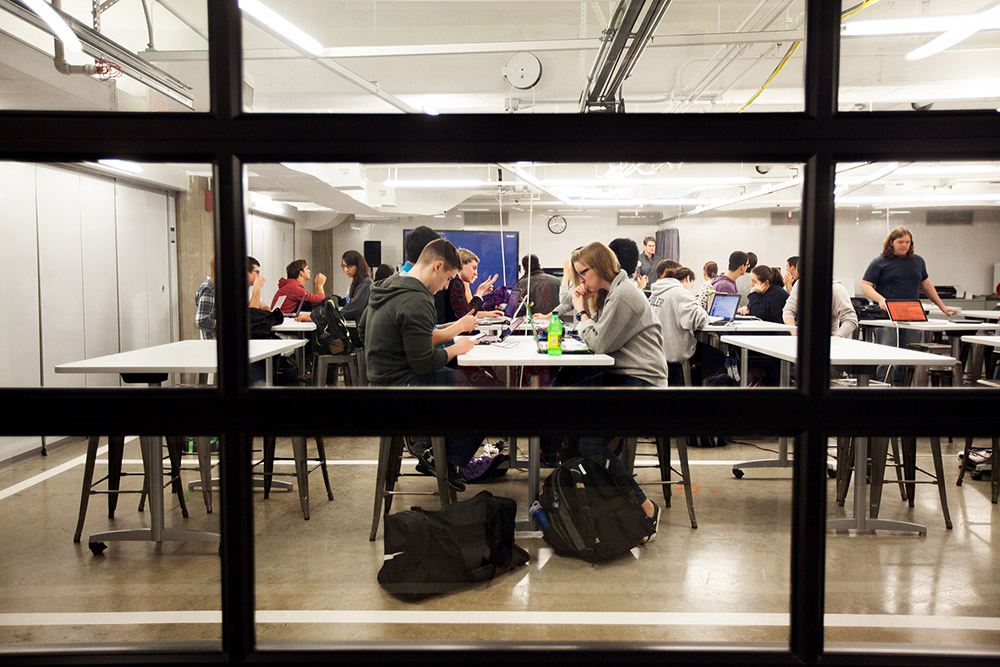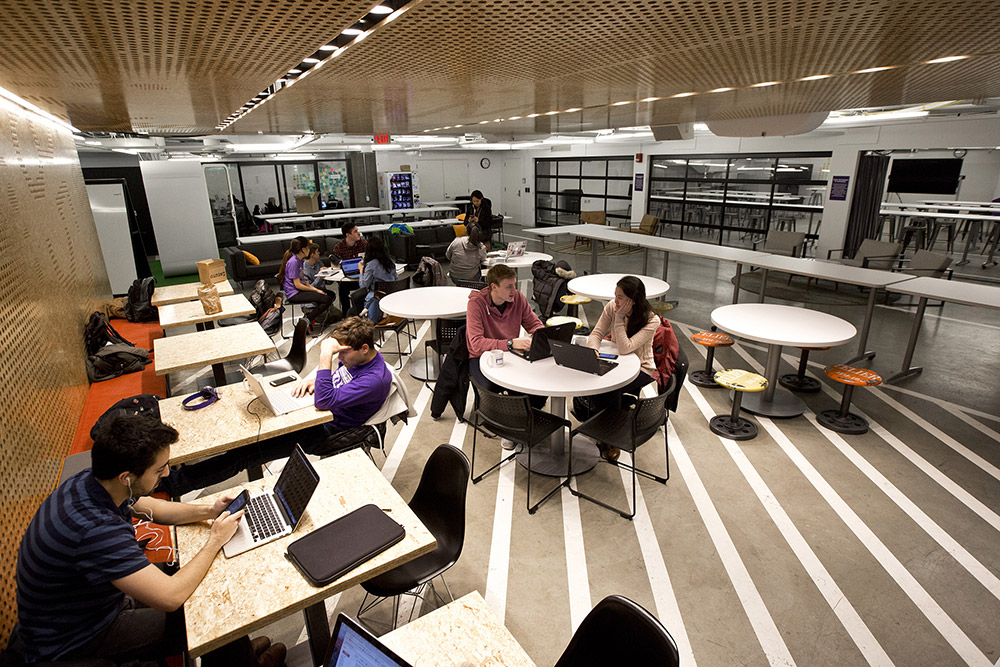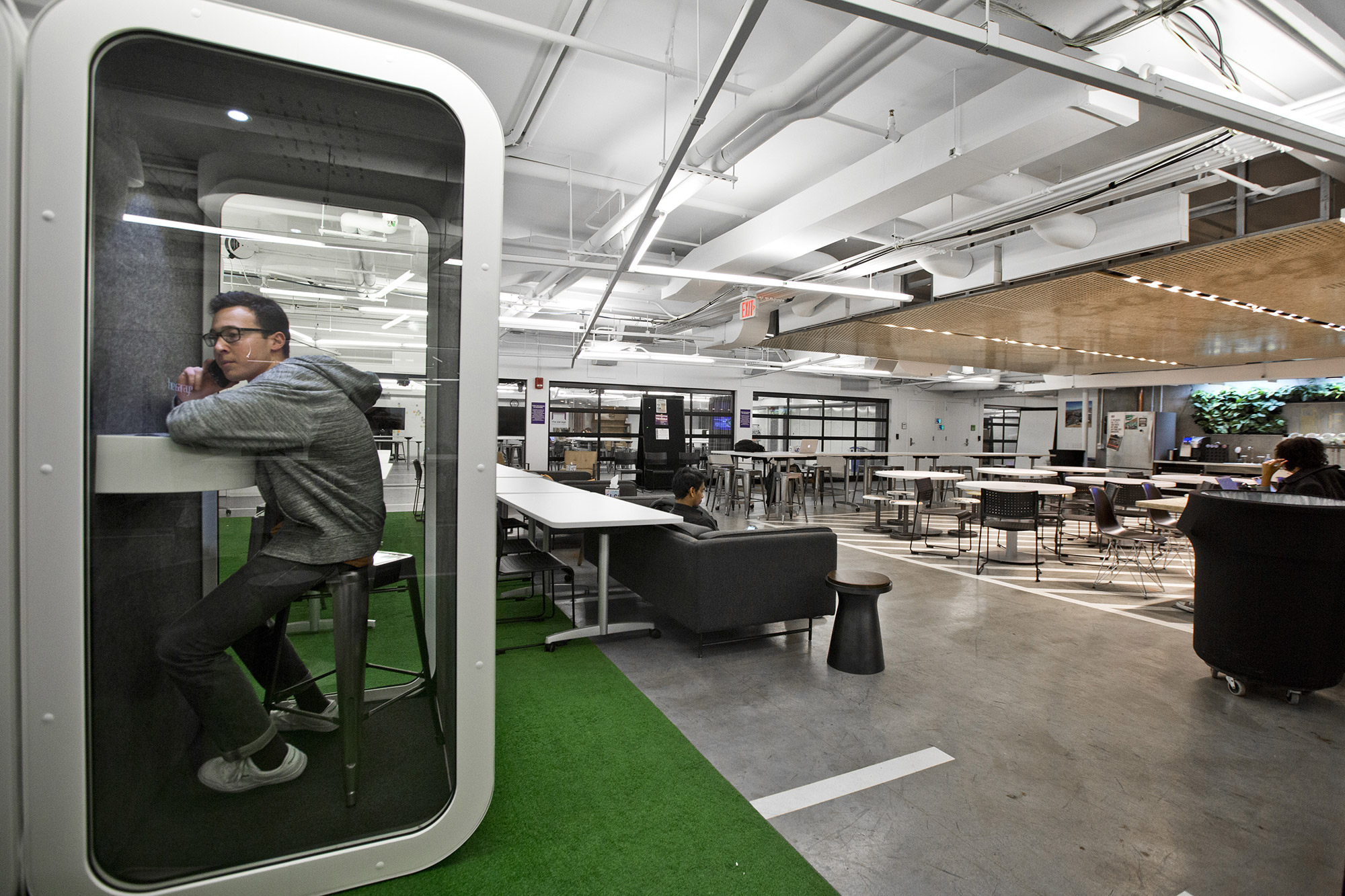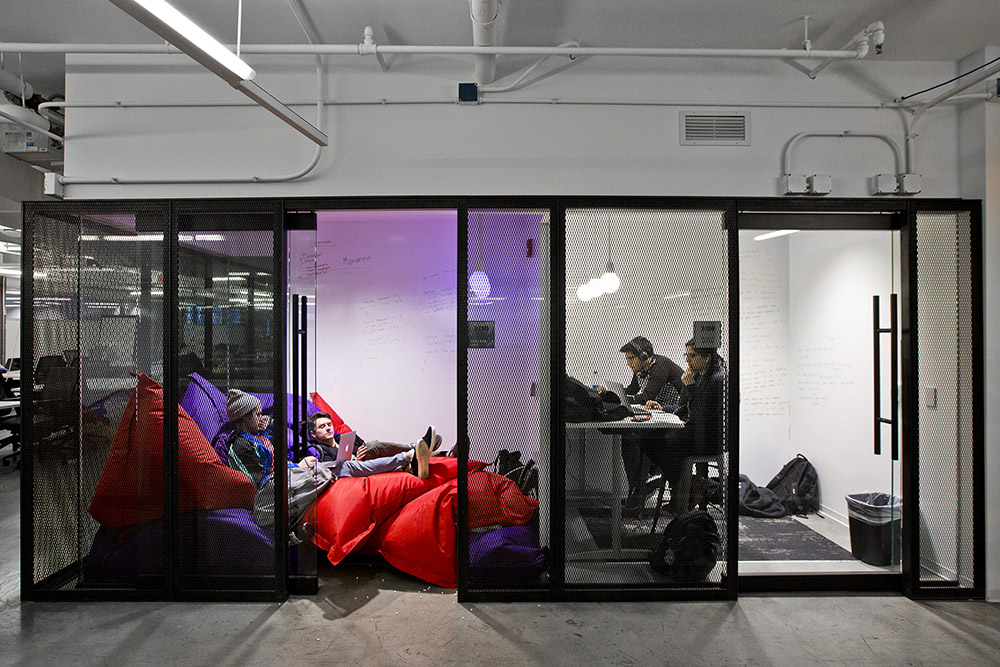 About The Garage
The conference will take place at The Garage, Northwestern's dynamic new hub for student entrepreneurship and innovation. Located on the Evanston campus, The Garage brings together a cross-disciplinary community of students, faculty, staff and alumni who all share a passion for building new ideas.
Questions?
Have a question that isn't answered here? Tweet at us at @progmech.
The Garage is located on the Evanston campus of Northwestern University. If you're driving, point your GPS at the following address: 2311 Campus Drive, Evanston, IL 60208
If you're taking public transit, you can get there via CTA: The Garage is about a 10 minute walk from the Noyes stop on the Purple Line. The CTA Trip Planner will help you set up connections from wherever you are.
We are going to be alternating between talks by featured speakers, and moderated discussion panels where several speakers will share their experiences on a chosen topic. Sessions will be 45 or 60 minutes long. Ample networking breaks are part of the schedule.
Due to space limitations, only about 100 tickets will be available.
This event is generously sponsored by the McCormick School of Engineering at Northwestern University.
For a free ticket? Sure! :)
Event map
The Garage at Northwestern
2311 Campus Drive, Suite 2300
Evanston, IL 60208
Get Directions